Dr. C. Nicole Swiner is a physician, writer, published author, wife, mother, and now she can add workshop organizer to the list. It is obvious that she is well versed in the "Superwoman Complex" and what that means. She also knows a thing or two about stress and how to balance work and life in a way that promotes good health and self-awareness. She is not only sharing her ideas through her writings but now is gathering together men and women to share their perspectives on how to handle the struggles and stressors of life.
On January 9, 2016, "Docswiner," will present the New Year, New You Conference, an event she organized to bring positive thinking leaders together to talk about the best ways we can lead our super lives without allowing our leaping over tall buildings in a single bound to cause us to fall prey to illness and poor health. The idea to have this conference actually is a testament to following your passion, something that can help keep you on the path to wellness. And it all started with a book.
More Than a Physician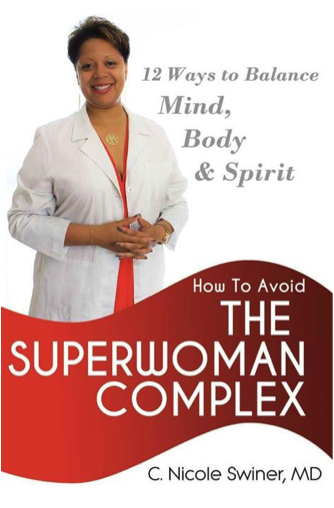 Dr. Swiner is the author of "How to Avoid the Superwoman Complex." Born out of articles she wrote for Triangle Tribune and conversations with patients and others, the book took shape after she realized that she was writing about the common themes of preventive health and self-awareness. "It was a labor of love and necessity," she says. She defines the Superwoman Complex as when women think they can do everything, or when the people around them interact with them with the belief they can do everything. "You can do all, take care of all, treat all, balance it, not a problem and you'll be fine," she says women tend to think. "Or else the people around you say oh don't worry, I've seen her do it before, she can do it, she does everything, we'll just ask her to do it, and she'll be fine," she adds. Dr. Swiner explains that the idea of the Superwoman Complex came out of the Superwoman Syndrome of the 80's, the term used to describe women doing way too much and starting to die at equal or earlier rates than men. Research revealed that this syndrome was the result of women entering the workforce in the 80's, becoming CEO's and other professionals, while being expected to continue to take care of the home life, their aging parents, their girlfriends, and colleagues, and so on. The medical community realized that women at alarming rates started getting sick and stressed out, becoming alcoholics, diagnosed with depression and anxiety. Dr. Swiner points out that although this concept was introduced more than 30 years ago, the problem still exists today.
After Dr. Swiner released her book, she started to contact conference organizers all over to see if she can join on their agenda to speak on how to balance and handle the stressors of life from a woman's standpoint. While she was very excited and honored to be allowed to speak, after a while she realized that instead of speaking at someone else's event, why don't I just present my own event and use it as a platform to reach out to women and help them to manage the overwhelmingly huge list of responsibilities the average working woman has to handle. Through her travels promoting her book, she met like-minded individuals who are vanguards in their prospective areas. She formed relationships with them and recognizes these are leaders who have a lot to offer on the subject.
Follow Your Passion
Your passion won't leave you alone. Sure, you may have had a long, exhausting day. You've pulled your clothes off from the workday. Maybe you've taken a shower, grabbed a little dinner, checked your email, gotten the kids tucked in and even caught up on the affairs of the day with your husband or boyfriend. Then, you climb into bed thinking you are ready to drift off to sleep. There you lay, eyes wide open. You're tired but your mind is racing. Suddenly you're thinking about your passion and this thought just won't let you rest. You grab the journal conveniently on the nightstand and scribble thoughts down until 4 a.m. Seeing that you have to be up at 6 a.m. for your day job, that's not a good thing.
Or is it?
If you ask Dr. Swiner, she may tell you that it really is a great thing. You see, she knows a thing or two about being passionate about something. She knows how it won't leave you alone. She knows how when the passion comes calling you don't feel quite whole until you follow it. You see, it happened to her. One may ask why would a primary care physician with a successful practice, respect of her peers and a bright future in medicine would want move into the public speaking realm. The answer was found at the first big event she attended to talk about her book which was Women's Empowerment in Raleigh earlier this year. This experience was more than just a great opportunity to reach hundreds of people and inform them about her book. It also brought her passion to the surface. "It was confirmation for me. Confirmation that I have a passion for what's going on with women. Confirmation that I have a passion for getting that positive feedback from the audience and that they are pulling from me because they really wanted to hear what I have to say," she says. "I said to myself, yeah, this is what I want to do more of and this is probably why I was put here on this earth," she continued. Dr. Swiner described it as an out of body experience as she realized that this is her passion, to speak and interact and share her information with others. While she is not saying she is not still seeing patients, she does feel that getting in front of people, reaching out and touching them from a more real and personal female perspective is truly her calling.
The New Year/New You Conference will be held at the Jewish Life Center at Duke University, 1415 Faber St., on Saturday, January 9th from 8:30 a.m. until 1:30 p.m. The emcee will be Karen Clark of Radio One. Panels will include "Lady Docs" and "Real Talk from Real Men" where the audience will really get to interact in open discussion with the panels and talk about real issues and solutions. Speakers will include Tamara Gibbs of ACB 11 News, Dr. Margaret Brunson, author of "New Growth: How My Hair Saved My Life" and contributor with EmergeNC Magazine, artist Randy "Freedomclay" Rogers, and former television news reporter/anchor and graphic artist Ric Swiner, who also happens to be Dr. Swiner's husband. "It's wonderful to have the full support of your spouse when you take on these new opportunities," she says.
Keeping in line with the Durham style, there will be lunch provided by some of the finest food trucks in the Triangle and also music and prizes. Dr. Swiner encourages you to come prepared to contribute, laugh, and learn a lot while having a good time in the process. She says, "This is not going to be like the usual conference where the speakers speak and the audience just listens and takes notes, someone sings and you go home. No, it will be the most interactive meeting of the minds and voices with some great thinkers. Everyone will leave home with something to jumpstart the new year."
Tickets are available here.
To learn more about Dr. Nicole Swiner and her book, go to her Facebook page.