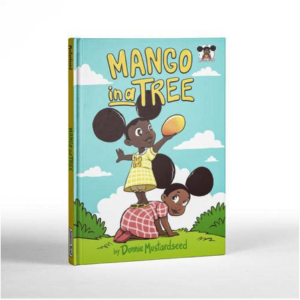 Griot, Donnie Mustardseed, preserves the tradition of African folktales while presenting the fresh voices of Annie and Izzie along with striking color illustrations from master artist, Guy Wolek (contributing artist for the Caldecott award winning Olivia book series and television series by the same name).  With a little help from Zinga, the iguana, Mustardseed presents Mango in a Tree, a moralistic tale about the importance of teamwork and perseverance.
The picture book is written in poetic form and features strong female protagonists and imagery that hearkens to the African diaspora.  Parents and teachers alike will praise the lyrical use of language to incorporate both character education and familiar sight words appropriate for the target age group.
The tale begins in the voice of a mango who finds himself in deep existentialist contemplation as he attempts to understand his purpose in a world where he is far too high for hands to pick.  Along come Annie and Izzie with an answer to his metaphysical ponderings and a plan for allowing him to fulfill his delicious destiny as a treat for small, sticky fingers. Zinga looks on dutifully, while the twins devise plans for capturing their afternoon snack.
Donnie Mustardseed is an independent children's content creator who targets every girl. He lives with his wife and three daughters in Washington, D.C.
by Donnie Mustardseed; illustrated by Guy Wolek
Grade Range/Age Range: Pre-K -2; Ages 3 – 7
Publisher: JUNIORS READ PUBLISHING
Copyright 2017
ISBN: 978-0-9990162-0-6