In sports success is often determined by the accomplishments over time, and not the road that is taken to get there. With so much emphasis placed on physical attributes, far little is placed on technique. When it comes to football, 3, 4, and 5 star athletes can often trace their success back to hard work, determination, and a coach or camp that emphasized fundamental techniques. For the past year, the Ogden Elite Football Camp has done just that.
http://www.ogdenelitefootballcamps.com/about
The Ogden Elite football camp, headed by former college and professional NFL player Marques Ogden, does not focus solely on the game of football and its strategy. With this camp, coaches share their wisdom their participants, who range in age from 6 to 22, practical life values. This is one of a few things that set this camp apart from others like it. Another unique quality for this camp is that the ratio of coaching professionals to participant is 1 coach to every 8 to 10 participants. This allows for more personal instruction and interaction between the coaches and participants. We had a chance to witness first-hand the multitude of break-out sessions, nutrition, and work-out regimens during their camp in June of this year. There was one-on-one instruction where necessary, and careful attention paid to each individual participant.
Marques Ogden, Washington, DC native brings years of college and professional experience to students four times per year in his camps. The recent addition to the Campbell University football program, Ogden joins as Offensive and Defensive Analyst. Under the leadership of recently installed head coach Mike Minter, Marques is sure to build on what he is able to offer youngsters interested in football. But wait there's more – Not only does Marques bring football technique to campers and One-on-One clients, but he also engages the Public in motivational speaking, football themed birthday parties, Track-out camp fun and fitness, to name a few.
Even more than that, Ogden is a part of a group bringing safety to all sports, making available to not just the football camp participants, but a multitude of other sports, GAMBREAKER helmets. As the concern for concussion related injuries grow throughout sports, GAMEBREAKER helmets have created a light-weight uniquely formed performance protective cap for practice purposes. They are currently being used by high school athletes all over the country, such as football players, cheerleaders, wrestlers etc. GAMEBREAKER is in the process of speaking with the U.S. Military, I-9, YMCA, National Guard, Adidas, and many other organizations about infusing their medically tested (Brain First) product. Brain First is an independent consortium that has medically tested the GAMEBREAKER helmet and given data reports containing information about the safety enhancement our product offers. Athletes such as Golden Tate, Clay Matthews Jr., his son Clay Matthews III, Brian Kelly, and others endorse our product.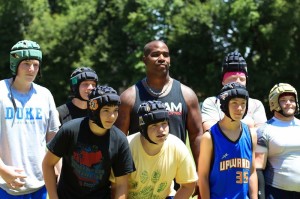 Catch up with Marques at their last camp of the year July 26th and 27th at W.E. Hunt Recreation Center in Holly Springs. The cost is $155 for 14 hours of training in a weekend. You can also catch up with Marques at marques_ogden@yahoo.com to find out about one on one sessions, track out camps, and how to order a GAMBREAKER helmet for your son or daughter to help enhance their safety while playing sports that they love!