Are you ready? It's that time of the year when you start heading out and looking for clothes for the Fall for back to school. Stores everywhere are now moving out the summer looks and filling the racks with great Fall fashion. But I am sure you are asking yourself "What do I buy?" Sir Byron has you covered, check out my list of great Fall trends that will have you turning heads everywhere you go.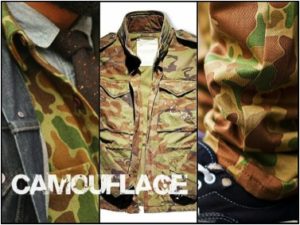 1. Camouflage
Last year we saw camouflage or "camo" make its introduction into the fashion scene and this year it will really take off. The cool thing about wearing camouflage is that you can find items in retail stores, army surplus stores or even in thrift stores. Great camouflage fashion can be obtained on any budget. Remember the style is to wear a single item with your normal outfit such as just the pants paired with a tie shirt or taking the jacket and cutting off the sleeves for a relax look. Avoid going for the G.I. Joe look!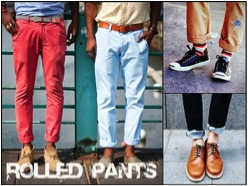 2. Rolled Pants
Adding cuffs or rolling your jeans or chinos will give your more of an individual look to your outfit plus it will draw attention to your shoes. This small change will make your shoes the focal point if you are looking to highlight how good your shoe game is!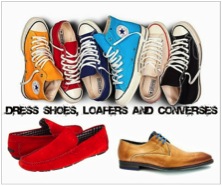 3. Dress Shoes and Bright Color Converses
While we are talking about shoes, wearing really cool dress shoes, loafers and bright color converses has been making an appearance in Fall fashion for young men. Dress shoes and loafers don't always have to be for church or weddings; paired with jeans or a unique color chino it can add a different twist on your style that will get people talking. Converses can with styled with tailored straight leg jean, a button up shirt, vest and tie and you have a dresser look that is stylish and comfortable at the same time.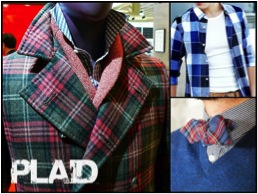 4. Plaids
We are seeing plaid show up in many stylish ways. From plaid shirts to plaid pants you can get a really unique look. Remember a little plaid goes a long way; we don't want to go for the lumberjack look!
5. Fur and Leather
The Fall look here is to have clothing and accessories that are trimmed in fur or leather. Whether it is real leather and fur or faux leather and fur this style can add a unique detail to your look. Hats trimmed in leather or jackets and hoodies trimmed in fur will give your look a little more edge to it.

This Fall be unique and be bold with your style. To be a trendsetter is to know how to take something average and put a stylish spin on it. With these additions to your closet you inspire others to step out the box.