For Miles Davis, a man whose musical performances and personal reality often stretched far beyond the bounds of expectation, two minutes (or two hours, even) to tell his story seems like it would never do him justice. But for now, the former will have to do with the release of the first trailer for Miles Ahead, a film about the iconic trumpeter that will debut in theaters April 1. Capping off a project ten-plus years in the making, Don Cheadle will direct and star as the mercurial musician; the film also stars Ewan McGregor, Emayatzy Corinealdi, and Straight Outta Compton's Keith Stanfield.
Miles Ahead focuses on 1979, a period during which Davis picked up his horn after more than three years away from it. He lived a full and complex life—from a Juilliard education and custom-suited acceptability in the bopping Fifties and Sixties to wild stylistic and behavioral divergences in the Seventies and Eighties. It's probably more than could be contained in any one film, but the trailer promises plenty of nuggets for hardcore heads such as what appears to be Davis's 1959 fight outside of Birdland and a glimpse of what has to be one of his great quintets playing Kind of Blue, his most well-known and well-regarded record.
Hollywood biopics often range from the sublime to the stagnant, so despite some positive reviews, we're holding off judgment until we see the final cut in April. But here's some deeper knowledge on what we've got so far.
[00:00-00:15]
Our first look at the Prince of Darkness immediately situates the film in the later Seventies due to the Jheri curl, flashy dress, and head-down playing style that characterized Davis's onstage persona at the time. The first quote, "If you're gonna tell a story, come with some attitude, man," isn't a direct Davis quote, but Cheadle has Davis's raspy whisper down pretty well.
[00:15-00:25]
Rolling Stone's reviews of Davis recordings from the Seventies were more positive than one would expect, so having Davis punch Ewan McGregor, despite the former's mood swings and violent tendencies, is an interesting choice. Inserting a journalist into the story will probably make this more into a narrative telling rather than a hagiographic one, which is useful. But someone needs to explain why the guy from Rolling Stone has a British accent…
[00:25-00:40]
Though Davis's life was probably often stranger than fiction, a concern has to be that Davis's erratic behavior might lead to an absurdist portrayal on screen. Again, the reviews have been strong for the film so far, but having Davis brandish and fire a gun in the direction of record label executives is a bit ludicrous. But the battle between musician and label for ownership of music—a persistent issue for musicians throughout virtually the entire history of the recording industry—is a very real one.
[00:40-00:53]
The movie is said to utilize flashbacks extensively, and Cheadle trades his wig for a suit as "Gone" from Porgy and Bess plays in the background. Davis's early period is certainly significant, but it makes sense that the film jumps ahead a few decades to avoid being too conventional. We jump back forward, and when asked if he trained on the piano, Cheadle-as-Davis jokes, "Just woke up black; knew how to play." It's another line that seems right out of a profile from that era, but it's delivered a with a little less malice than Davis was said to have had at that time. And one has to wonder if McGregor's quip back—"You're black?"—would've gotten a smile from Davis.
[00:53-01:13]
The iconic bassline of Davis's modal masterpiece "Kind of Blue" kicks in right when you'd expect it to, doesn't it? Scored by jazzman Robert Glasper and made with full cooperation from Davis's estate, it seems like the full catalogue of Davis's 40-plus-year career is available here, thankfully. We meet Frances Taylor (Corinealdi), Davis's first wife, who appeared on the cover of Someday My Prince Will Come in 1961. Davis was a known abuser; it will be interesting to see how this is handled in the final cut.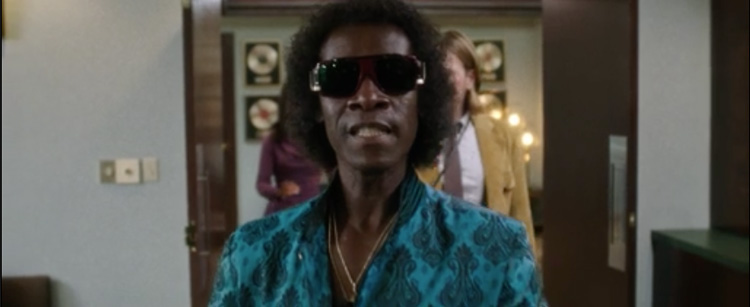 [01:13-01:30]
This gives us the clearest indication of the film's plot: a kind of buddy quest to find a stolen recording with more guns at the ready. While sanctimonious hero-worship certainly isn't what anyone wanted here, this fictionalized story—no such account of a missing recording exists—seems like a somewhat strange choice as a plot vehicle. We do get an actual quote, though, with an important reminder: "Sometimes you have to play a long time to be able to play like yourself."
[01:30-01:37]
We catch a glimpse of Davis and Taylor's marital troubles and a shot of Cheadle wiping his nose. Cocaine was Davis's primary distraction during the real-life five-year period of silence predating this film; this section of his 1989 autobiography is a dark one. Cheadle appears to be in better shape than Davis was, but that may not be a bad thing.
[01:38-01:42]
While the periodization is off (his hair is wrong), this recalls a Miles moment that has always deserved more scrutiny from academics. In 1959, Davis was playing at New York City's famed club, Birdland, where he was accosted by police for being too close to a white female concertgoer. The police asked him who he was and he pointed to his name on the marquee. In the film's retelling, he's attempting to gain entrance to a concert and is met with resistance. This may be coincidence, but let's hope not.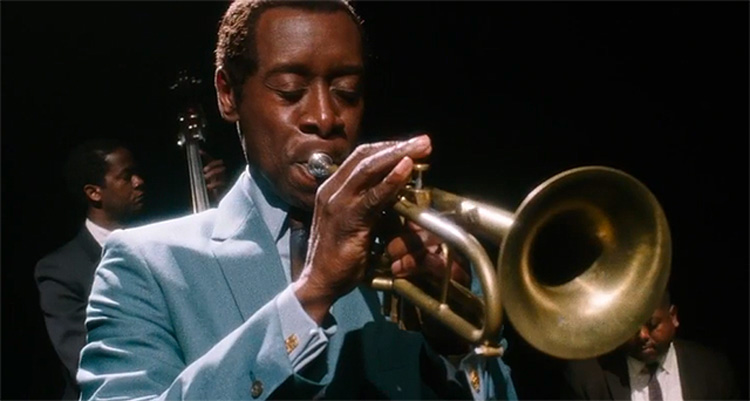 [01:43-01:57]
Davis was a huge boxing fan, looking up to Joe Lewis and Sugar Ray Robinson and naming one of his greatest albums in tribute to the first African American heavyweight champion, Jack Johnson. Therefore, staging what appears to be another fist-and-gunfight at a boxing match makes perfect sense. While Davis trained in New York gyms where Robinson himself had once honed his craft, the musician never entered the ring—his hands and mouth were too important to risk. Famous photographer Jim Marshall, who took many iconic shots of Davis, called a series of photos taken in 1971, "Don't hit me in the mouth; I gotta play tonight," which was Davis's warning to his sparring partners.
[01:58-02:06]
More fiction: To my knowledge, Davis never shot at anyone from the back of a speeding car. Though it wouldn't be all that surprising if he had.
[02:06-02:15]
"Don't call it jazz, man. That's some made-up word. It's social music." A lament of many musicians of Davis's time, this quote sums up both the promise and apprehension of layering the Hollywood sheen onto a real, complicated life. Davis may simply be too complex a character for a typical—forgive me—whitewashing to be successful. Cheadle and his team's choice to forego the typical biopic style is an inspired one, but we have concerns about the final product. We'll have to wait until April 1 to find out, but at the very least, it'll have a fantastic soundtrack.
Miles Minutes: A Close-Reading of the Miles Ahead Trailer ‹ Dr. Guy Presents MusiQologY.
Source: Miles Minutes: A Close-Reading of the Miles Ahead Trailer ‹ Dr. Guy Presents MusiQologY