Freedmen's Bureau Records To Be Searchable Online.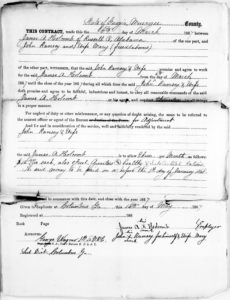 AAHGS + North Carolina Triangle Chapter seeks VOLUNTEERS to join the nationwide effort to index documents generated by the Bureau of Refugees, Freedmen and Abandoned Lands. The deadline is late 2016.
Known to most of us as "The Freedmen's Bureau," it operated in 15 states and the District of Columbia between 1865 and 1872. In the aftermath of the Civil War, some four million ex-slaves, and thousands of destitute whites, sought aid from the Bureau. Their names and needs were recorded in handwritten documents.
In effect, the Freedmen's Bureau produced important information about the African Americans who had just stepped out of slavery 150 years ago. They applied for education, employment, healthcare, justice, marriages, rations, pensions, and other services, etc.
For us, their descendants who have hit brick walls in researching our family histories, these records could fill the gap between the two very important surveys: The 1860 Slave Schedule, when slaves were only identified by age and gender; and, the 1870 United States Census, when all African Americans, as citizens, were identified by their full names and a lot of other details.
Since Family Search International began publishing Freedmen's Bureau records some years ago, the Bureau's million-plus digital images can be browsed on the Internet. However, it could take days, weeks, months, even years, to find a specific record for a specific ancestor.
Anyone who has ever tried browsing random images will appreciate a keyword-searchable archive. And, that's exactly what The Freedmen's Bureau Project will provide. For free! You can use the indexing tool right now and track the overall records indexing progress on www.DiscoverFreedmen.org.
AAHGS chapters nationwide are proud to partner with the California African American Museum, FamilySearch International, National Archives & Records Administration, and the Smithsonian National Museum of African American History and Culture. The Triangle chapter can take even greater pride, knowing NMAAHC's lead architect is Triangle-based, Phil Freelon.
President Obama will inaugurate the Smithsonian's newest museum in October 2016. Never in their wildest dreams could this country's last slaves imagine a first African-American president. But, there's only one year to complete The Freedmen's Bureau Project on time and give our ancestors their due…a Date with Destiny!
We hope you'll volunteer with AAHGS + North Carolina Triangle Chapter to help create the free, keyword-searchable database that will finally lead the Freedmen out of this country's darkest period…and into the light.
Go to www.DiscoverFreedmen.org where you can learn more about The Freedmen's Bureau Project and sign up to be an Indexing volunteer for the AAHGS + North Carolina Triangle Chapter.
As always, we welcome your membership in the AAHGS + North Carolina Triangle Chapter. Come to one of our meetings. Visit our Facebook page. Or, email us at aahgsnctriangle@gmail.com.
Submitted by Nerissa Williams
Member, AAHGS+NC Triangle Chapter