With Christmas and New Year's Eve parties around the corner it seems like everyone will be throwing some kind of holiday party. Many people will pull out the old standby "ugly Christmas sweater." We want to go ahead and bury those things this holiday season. I am here to give you 5 holiday must-have looks in which to party, socialize and look extraordinary.
VELVET BLAZERS
A few years ago velvet blazers made a comeback on the causal side but this year they are trending in dressy attire. Doing a black, burgundy or even a green velvet blazer paired with a pair of black slacks will look amazing as you are chatting it up with your friends fire side.
 MODERN FIT SWEATERS 
Ok, since we buried the old "ugly Christmas sweater" we have to replace it.  Modern style sweaters are more appropriate. These will be fitted and could be cardigan style, cowl neck or a v-neck. With sweaters, there are so many options. As long as it's not oversized or overly thick material, you can have lots of fun with them.
BOOTS – For more casual parties, a great pair of boots is a staple. We are not talking Timberland work boots or the old snow boots dad used to wear. We are talking dress boots! They come in many styles but the wingtip style is becoming more and more popular. The dress boot is not only stylish but also still functional when there is bad weather.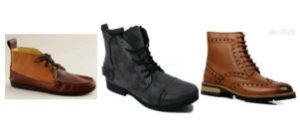 LAYERS AND DARK DENIM
Layering creates a visual effect of texture and depth. I talked about in my post The Gentlemen's Styling Guide: Color, Fabrics, and Patterns. When wearing layers with jeans, ALWAYS wear dark denim (that is your correct size and length). Dark denim always looks dresser than light colored denim and it creates contrast when layering with a shirt, sweater or blazer
OK, MORE VELVET 
Let's look at adding a little more velvet to our look for those holiday parties. Velvet ties and bowties can add huge impact. They are classic in style. Also, slippers are very popular now so why not come stylish in velvet slippers. They are available in so many colors and designs. You can have a simple look and the slippers can be the talk of the party all on their own.
I hope this information helps in making those decisions on what to wear for holiday parties a little easier. Don't be afraid to step out the box and have fun with your look as you celebrate the holidays with your friends and family. Until next time!