It's summer time and there is so much to do and so much to see, but what do you wear? Many men find it easy to dress in the fall and winter but find it a little more difficult to know what to do in the summer. There are so many events that happen when we have this great warm weather. It's tempting to turn to baggy jeans, cargo shorts, A-shirts or "wifebeaters", heavy wool suits, and the list can go on. For this reason I created a blueprint on how to look amazing and be comfortable while having fun in the sun.
Relaxed Weekends and Getaways
Remember the weekends and getaways are supposed to be for unwinding, so why not look like it. Start off with a simple light weight cotton t-shirt. Something basic with minimal or no graphics gives you a very mature look. Another great option is a simple oxford shirt with the sleeves rolled up. With either shirt make sure it is a clean fit and not baggy. It should fit loose enough so you can feel relaxed as you lounge by the pool or at the cook-out. Grab those boating shorts or chinos for a clean look. If you are feeling bold, take it up another level and do a bright fun color like yellow, aqua, green, or any light color. A pair of jeans or shorts are great on those cooler evenings BUT they should be modern fitting; not too baggy or too tight. Accessorize with a bright colored nautical belt, a clean straw fedora and a classic sneaker or loafer and you are ready to make a statement.
Summer Weddings and Semi-formal Events
This is a tricky area but with a little understanding about fabrics you can get an amazing look. At either event it is always appropriate to wear a jacket.  To keep from passing out from heat exhaustion make sure you are wearing a suit with a light weight fabric such as linen, khaki, or 100 % cotton or cotton blend. A half lined or unlined blazer with half lined or unlined slacks makes for a more comfortable and cooler time in the heat. It is best to
avoid bright colors at these types of events. Instead, opt for traditional khakis, blues, and tans.  Blacks are still acceptable for evening events. Remember, a seersucker suit is ALWAYS a summer staple and was created for these types of events in the summer weather. Complete your look with a tie or bow-tie, light weight dress shirt and a nice shoe. A loafer, simple oxford or even slipper style shoe will coordinate well with your look and you will be life of the party.
Night on the Town and Social Engagements
Here is your chance to express your individuality and creativity as you play with different looks. Here are just a few ideas to get you started:
Grab those cool boating shorts and pair it with an oxford shirt with rolled sleeves for a clean look. Change out the oxford shirt for a simple t-shirt and throw on a light weight linen or cotton blazer with rolled sleeves to transition from a day-to-evening look.
Roll up the legs on a pair of chinos paired with a polo style shirt and slip-on loafers for another amazing look.
Try jean shorts and a light weight pull over sweater with the sleeves pushed up for cooler nights.
Want to have some real fun with your look? Add a pop of color with some bright patterned or stripped socks. Even socks with designs shows off your individuality.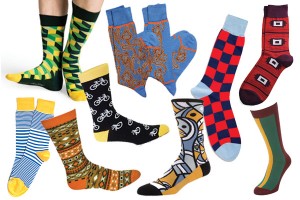 There are so many opportunities to showcase great style this summer. Don't let the warm weather keep you from being the most stylish gentlemen you can be. By following my simple summer style guide you can create a look that speaks volumes to who you are on the inside as well as the outside. Remember, style is a journey not a destination!