Running. Is it just about putting one foot in front of the other and taking off? Is it just about grinding your toes into the gravel on the track and kicking off blazing towards the finish line? Is it willing yourself forward, even when you feel you cannot go on, your body telling you to quit while your mind tells you to keep going? What moves a runner? What keeps them coming back for the grind? Do they run for fitness? For legacy? For escape?
Runners run. That's what they do. But for Marla Hyman Lindsay it's more than that.
READY!
Of course she loves the competition of running. She's been running since she was 7 years old. Her phenomenal athleticism catapulted her to Athlete of the Year of Carteret High School 1994-1995, and to be inducted into the school's Hall of Fame. A track and field scholarship landed her at Western Carolina University where she was a champion in 1995 and 1996. After college, transitioning into coaching at Southern Guilford High School and Kernodle Middle School was quite natural. But her love of running and lessons you can learn from it called her into a different direction that she could not ignore.
SET!
Lindsay loves children. A mother of 3 herself, she says that she is often blown away by the lessons she learns from them. But she is also concerned about their self-esteem, mainly of the little girls searching for a way to express themselves athletically. Realizing that girls do not have as many sports options as boys, Lindsay wanted to change that. Her work in the school system allowed her to see many kids from less than stellar family situations with bad attitudes not due to some internal deficiency but because they did not have a vehicle or means to properly channel that anxiety or anger for positive results. Years of competing taught her that will + preparation + ability = success. Most track and field coaches she ran across during her work stress winning at all costs and that winning is the only important thing. But Lindsay has a different take on it.
"Anyone can teach win, win, win at any cost. Winning feels great, but there's more to a win than being the top sprinter. There's achieving what others think is impossible. That's winning," she said.
Lindsay recognized that she wanted students to be more excited by fitness and nutrition rather than rappers and entertainment. Lessons she learned growing up competing resonated with her and she wanted to pass those lessons down to the next generation of runners. The passion for doing your best; the desire to give back; the determination to excel. She found a way to take all of these principles plus her athletic gifts and reach back and lift up those following behind her.
GO!
In March of 2013, Lindsay founded the Greensboro Gladiators Track & Field Club. Now in its 3rd year, the club has transitioned into more than just a track and field club. "The Gladiators is more a place of learning. It takes a village to build a community and raise a child," she says. "We do community service projects together that fosters a sense of family. We also stress the importance of being able to adapt to change and the need for continuous learning. Learning never stops," she teaches her students.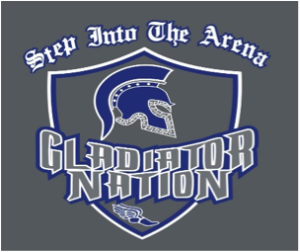 In line with her philosophy of grooming a well-rounded athlete, she has a guideline that her assistant coaches either have a child in the club or that they are passionate about children learning the lessons that running track can teach them. She has setup the Parent's Council to assist with logistics and processing for the club which further illustrates the sense of family, keeping the parents engaged.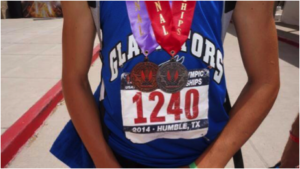 RUN GIRL!
A message from Marla to young girls out there who may want to run track: "First of all, do you know you can beat a boy? There are two types of athletes – 1 knows what to do, and the other understands what to do and how. Focus on that, knowing what to do and how to do it. When you know what to do and how to do it, the rest will follow. Use your feet to move forward!"
EMERGING ELITE COACHES CAMP!
Lindsay is truly a positive thinker and a determined fighter. Any obstacle put in her way she works hard to overcome. Over the past year she had to undergo some medical procedures which could have threatened her ability to compete athletically again. But instead of letting it set her back, she pushed through, got well, returned to moving and running, and the next thing she knew she was competing again! She also became the North Carolina US Women's Track & Field Chair and the assistant track coach at Northwest Guilford High School. This sparked her interest in taking her coaching to another level, so she decided to apply for and won the opportunity to attend the USATF Men's and Women's Throws/Sprints/Hurdles/Jumps/Endurance camps. Held in Chula Vista, CA, this camp is held for elite coaches only who have proven their abilities to develop athletes to state/national levels in their respective fields, and their projected ability to develop future Olympic medalists. Lindsay said that she almost didn't get the opportunity.
"I really did not think I had what it took," she said. "I filled out the application and let it sit for a month. Then one day I finally decided to submit it and when I did, I heard back in less than 24 hours that I was accepted!"
Attending the camp came with great lessons for the gifted athlete and teacher. She was surrounded by what she described as "big time" coaches including the top 10 college track and field coaches in the nation. She felt a little intimidated at first, but then she thought about what one of the instructors at the camp told her.
"She told me I have to learn to be more vocal. If I don't, no one will know who I am when it's time for me to shine," she remembered. Rather than shirk back and hide behind that little glimmer of insecurity, Lindsay let her body do the talking. When she went out for drills she held on to the examples that she set for her kids back home in Greensboro. That was the whole point of going to the Emerging Elite Camp. Lindsay says it takes you out of your comfortable environment which makes you want to perform at your best and to bring your best to the competition.
MARLA SAYS
Like a mother returning home to her kids after a long business trip, of course Marla had little gems of wisdom for the Gladiators when she got back.
Always focus on being a better you
You have to have discipline and consistency to achieve any dream
Recognize the burden and then realize how you get past the burden
The more quality you makes a more quality squad
Have confidence that goals are achievable
SHE'S ALWAYS THERE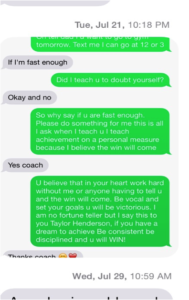 Success for Marla Lindsay and The Gladiators comes due to the principles she uses to guide the athletes and her instruction. Consistency. Preparation. Focus. All of the things she was given as the foundation for being a top flight track and field athlete. Lindsay says sure, she could have gone back to being an IT professional and being financially comfortable, but she chose not to. She is impacting kids in ways she never imagined and that truly brings her much more joy and satisfaction. She is transforming the lives of children which is priceless. The bond she has created with her students is unbreakable and positive. They are like family. She makes herself available to them even by her personal cell phone and that makes all the difference, always ready to give one of her students that little boost of confidence they need.
"I always want my kids to know I am there for them. I think they know," she says.