"Your work is going to fill a large part of your life, and the only way to be truly satisfied is to do what you believe is great work. And the only way to do great work is to love what you do. If you haven't found it yet, keep looking, and don't settle. As with all matters of the heart, you'll know when you find It." — Steve Jobs, co-founder & CEO, Apple, Inc.
I fell in love with art in kindergarten. Even at age five, I already knew the power of creativity and wonder of being an artist. It wasn't until middle school that I was politely discouraged from a career as an artist. I'm sure my teachers and guidance counselors thought they were doing the right thing by encouraging me to find a career that best suited my intellectual talents and offered financial stability. During my first few years in college, I didn't know much their words would appear to ring true when finally deciding to become an art major.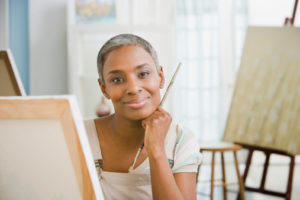 Mixed media sculptor, Kathy Pinkerton, experienced the same fears many young art students do, but found her professors' advice to be quite helpful.  "Eons ago when I was in school, my teachers always told us we'd need a day job, so learn a usable skill." Rodrécas Davis, multimedia artist and art professor at Grambling State University, tries to ease the minds of concerned parents and art students. "If they have some hustle about them, dedication, and diversified interests and skill sets that they are nurturing, they shouldn't have to struggle too hard."
Despite the fear factor, I knew I would find a way to make a living. What ended up happening still amazes me to this day. I eventually went on to graduate art school, became a tenured art professor and a nationally exhibited artist all before age 40.
What was my secret? Obviously, I didn't buy into the "starving artist" myth. I believed in my talent. Others did, too, and opened doors to other opportunities. "Creative minds are never really starving," says Durham-based artist Tara Avison. Her comment further suggests the need for artists to live creatively, on their own terms and never attach a paycheck to their worth.
As my professional network expands, I interact with many emerging and established artists with rewarding art careers. Eric Fitzpatrick has been a successful landscape painter for over twenty-five years. He believes that, "creating your own niche is the key and it is not easy. The simultaneous challenge is how to keep yourself growing and learning as an artist while paying enough attention to the (art) market to get by." One woman I met became an artist in her early fifties. She's completely self-taught, widely exhibited and makes a lucrative living by only selling work through a private collector. I've found others who left full-time jobs in pursuit of their artistic dreams, and those who juggle part-time jobs and still produce and sell their artwork. Julie Niskanen, a Raleigh-based printmaker, teaches part-time, gives private art lessons, works retail and still finds time for the studio. "As an active artist, I have found ways to get by. I have several friends that make art full-time and support themselves this way. It isn't an easy life, but they get to put 100% of their time into their art. And they are not starving either," she states.
Being an artist is truly an act of courage. Each artistic endeavor is part of a life-long commitment to living the dream. And as you can see, dedicated artists can and will flourish, defying the odds along the way.
Consider the "starving artist myth" debunked!